Small Batch Premium Jams Made in Oregon
Bring the flavor and freshness of homemade jam to your taste buds! Our jams are produced using a unique vacuum process that preserves the fresh fruit taste. No pectin or citric acid. Savor the chunky bits of fruit and berry drupelets that release a burst of fresh fruit goodness with every bite.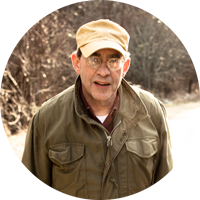 The Paul of Paul's Jam
My path to jam excellence started 40 years ago when I was introduced to the Oregon Marionberry at a local pie restaurant. The blackberries in my pie were like none I'd ever seen or tasted. They were not spherical like those I was familiar with, but long, large and cylindrical in shape. Curious, I contacted the Oregon Extension Service and spoke with Arden Sheets, then responsible for cane berry support. He described the complete lineage of the Marionberry, pulp to seed ratios, best production practices and more.  I was hooked, and took full advantage of the Oregon U-Pick opportunities to perfect my jam.
My family and I love
making turkey sandwiches with cream cheese and Paul's Premium Tart Cherry Jam.
It's the best treat after Thanksgiving!

Amber, Monroe, WA
A few months ago we were gifted a variety pack of Jams and we were instantly delighted! They have so much more flavor and better texture than larger commercial Jams. The tart Cherry and Blueberry Lime are my favorites. The Chehalem-Marionberry and Raspberry are my kids favorites. Both are excellent on biscuits and as filling for Jam tarts! We just ordered the 12 pack! Nice Job!

Don, Kirkland, WA
"I love Paul's Jam! My favorite is to add a spoonful of jam to plain fat free Greek yogurt for a low sugar alternative to regular yogurt. Blueberry-Lime is my all-time favorite!" 

Jessie, Medford, OR
My great-uncle & aunt brought a sampler box of your jam for us to enjoy when they visited us earlier this summer. We LOVE it!! We are running dangerously low on jam, which we mix with plain yogurt for dessert after dinner each night, and the children will mutiny if I fail to come through with more! :)\

SCROLL RIGHT TO READ MORE TESTIMONIALS >>>

Julie M, Memphis, TN
"Paul's Marionberry Jam is a Northwest specialty! It's a favorite at our house on toast, on ice cream and in a good old PB&J!"

Melinda M., Seattle, WA
"My family has tried every flavor, and we love them all!"

Jason B., Seward, AK
"I love serving it at parties! It is easy - spread a thin layer of goat cheese in a shallow dish, add a thin layer of jam on top and serve with crackers (I like Wheat Thins the best). It will take all your restraint to not lick the dish!" 

Sarah M., Sammamish, WA
"I'd eat it for breakfast, lunch and dinner...if my mom would let me! I also like it on pancakes instead of syrup!" 

Tatum (age 8), Sammamish, WA
Goat cheese topped with jam for an appetizer served with crackers.

Add jam to a store-bought vinaigrette.

Add jam to BBQ sauce or meat marinade

Add jam to plain yogurt.

Paint jam on puff pastry dough or refrigerator crescent rolls and bake in a little fruity flavor (pinch the ends to keep it from leaking).

Top vanilla ice cream--break oatmeal cookies or graham crackers on top to make it like a Marion berry crisp.

PB & Jam the traditional way, but also slice fresh fruit (peaches, berries, other juicy fruit) on the sandwich.

Added to smoothie to sweeten it up.  

Add it to milk or Kefir (fermented milk--tastes like liquid yogurt) and shake it up for a pseudo-smoothie,  great for kids.

Top pancakes or waffles with jam, finish with whipped cream for extra special. Anything topped with cream cheese and jam is delicious!

Mary F, Portland, OR